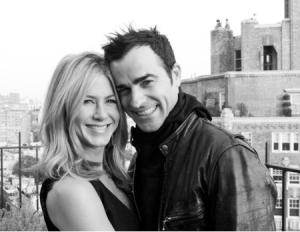 Jennifer Aniston has done the unthinkable and DUMPED Justin Theroux and his leather jacket …according to a new report in Star!
Insiders say Jen dropped the ultimatum bomb on her lover at Santa Monica's Giorgio Baldi restaurant on July 11. Apparently, she told him she needed a certain kind of commitment or else! And according to the source, all Justin could do was shrug his shoulders! Pshh… yeah! Cuz moving in together isn't a huge commitment after playing bi-coastal boyfriend!? The source says Jen knew it was over right then and there, saying:
"That was the moment the writing was on the wall for Jen. It crystalized in her mind that Justin isn't the one for her. Justin pleaded for a second chance, but for her the love is gone."
OH! But it gets worse… Needing a sort of closure on it all, Jennifer allegedly followed Justin in the weeks following their split and the source says she found:
"He got together with Heidi within days of Jen leaving. It seems like Justin couldn't wait to be rid of Jen so he could cut loose."
Sure… Justin might have been meeting up with a friend in NYC without Jen earlier this month, but we can't buy into this one just yet! Look at how well they go together! Even with all the raised eyebrows, they look like perfection together. We'll keep you updated… so STAY TUNED!!

Do you believe that Jennifer Aniston really split from Justin Theroux? Or is this just another baseless rumor?
Source: Perez Hilton
Image: Pop on the Pop