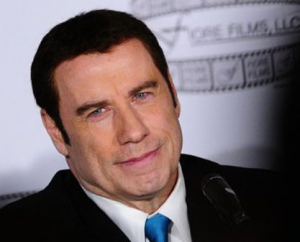 As evidence arises that may contradict one victim's claims, other men have reached out to a lawyer who filed a lawsuit accusing actor John Travolta of sexual battery and harassment, the attorney tells PEOPLE.
Two masseurs listed only under the name John Doe accuse Travolta, 58, of improper behavior during massage sessions, according to the complaint filed in Los Angeles by the Pasadena-based attorney. Okorie Okorocha says the men "never wanted this attention" and "wanted to keep this discreet," but a month of negotiations with Travolta's attorneys went nowhere. "They left us with no other option but to file the lawsuit," he says.
Travolta's high-powered attorney Martin Singer, whose Hollywood A-list client list has included Charlie Sheen, Demi Moore, Nicolas Cage, Eddie Murphy and Arnold Schwarzenegger, among others, strongly denies the allegations, calling them "absurd and ridiculous."
Singer provided PEOPLE a photograph and a Mr. Chow restaurant receipt that purportedly shows that Travolta was in New York on Jan. 16, 2012 – the day the first accuser claims he was assaulted while giving Travolta a massage in a Beverly Hills hotel. TMZ first reported on the photograph and restaurant receipt. And the restaurant's manager confirms to PEOPLE: "Yes, Mr Travolta came in for dinner to Mr Chow Tribeca on Jan. 16, 2012."
As for allegations by the second accuser that an assault took place during a massage in Atlanta, Singer says, "It is obvious that he checked media reports that my client was in Atlanta working on a movie."
Maybe the accusers should finally reveal their true identities, if they are not fictitious characters at all — what do you think?
Source: People
Image: The Raw Story