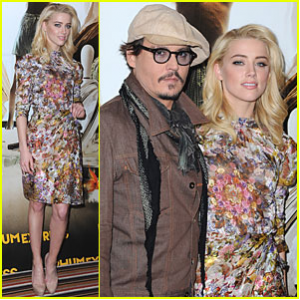 Ooh goodie! Time to talk about our favorite new couple!! But this time, we have to be the bearer of bad news… cuz if what we're hearin' is true, things are coolin' down for Johnny Depp and Amber Heard. BOOO!!
According to one source, Amber slipped away from Tasya Van Ree around the same time Johnny and Vanessa Paradis realized their relationship was over. The source reveals:
"They were hooking up for months — way before he publicly announced that he and Vanessa had split up. They did a really good job of keeping their relationship on the down low for a while, especially since many people assumed that Amber was only into girls."
But the source also explains the reasoning for their recent passion-dip. They say Amber can't handle the heat. Whattt?? We can't see Amber really caring about that! Because she is such a free-thinker! The heart wants what it wants! And like the source says, they were both done with their exes before they started gettin' hot and heavy!
Still, the source unfortunately divulges more bad news — that until things simmer down, Amber has to wedge some space between her and Depperz:
"She really likes Johnny, but she doesn't like the drama. She isn't really sure what is going to happen with them, but just wants the attention to cool down before anything progresses."
Do you believe that something (or rather, nothing) is going on between Johnny Depp and Amber Heard? Do you fancy them as a couple? Do share your thoughts and opinions with us!
Source: Perez Hilton
Image: Just Jared