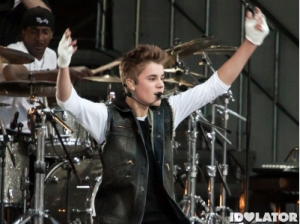 Canadian pop star Justin Bieber ran headlong into trouble on a European promotional tour on Thursday, knocking himself out backstage in Paris and dealing with a crushing crowd in Norway that left some fans injured one day earlier.
Thursday's incident occurred after the singer fell into a glass wall during an intimate concert in Paris. Bieber told celebrity news website TMZ.com he felt lightheaded but was able to perform his last song before going backstage and passing out for 15 seconds.
The concussion comes one day after Bieber, on a brief tour of major European cities to promote upcoming album "Believe," was met with a crush of fans before a free concert in Oslo leading to reports of dozens of young girls being injured. Bieber performed a free, six-song concert at the Oslo Opera House on Wednesday that is planned to be featured on his upcoming one-hour NBC television special to be aired next month.
TMZ said 49 young girls were injured and 14 taken to hospitals, and police came close to declaring a state of emergency in the capital. Those reports could not be immediately confirmed.
This is not the first time Bieber fever has caused crowd control and safety issues. In November 2009, fans stampeded a shopping mall in Long Island, New York ahead of an appearance by the pop star, forcing organizers to cancel the event. Bieber's manager was charged with reckless endangerment and criminal nuisance, but the charges were later dropped.
Are you a Justin Bieber fan? Tell us what you admire most about JB!
Source: Yahoo News
Image: Idolator