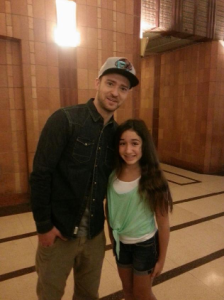 Justin Timberlake was being rushed through an NYC building on his way into a live radio interview Tuesday, when he crossed paths with Tina DiLascio – who told Justin her daughter Giana is a "Make-a-Wish" kid who underwent brain surgery last year to fix a serious blockage in her pituitary gland.
'Stopped in his tracks'
Justin was so impressed — he stopped in his tracks — and asked if he could meet Giana, who was waiting outside the building with her brother.  We're told JT waited patiently as Tina grabbed Giana … brought her inside … and introduced the two.
'Screen saver'
Tina tells TMZ …  Giana and Justin chatted for several minutes. Giana asked if she could take a pic with Justin, who agreed … but only under one condition :
"Only if you make it your screen saver!"
Eventually, JT had to leave … but not before giving Giana a big hug and telling her to "be well."
Are you a Justin Timberlake fan? Were you touched by JT's kindness towards the young brain surgery survivor? Feel free to share your thoughts and opinions with us. Let your voice be heard via the comment box below!
Source: TMZ
Image: NY Daily News