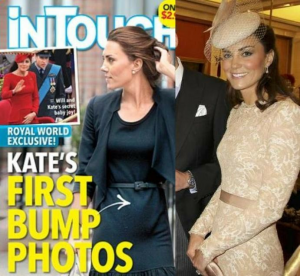 The royal family has just finished celebrating the Diamond Jubilee, but many royal followers have also been on a Kate Middleton baby bump watch.
The Duke and Duchess of Cambridge recently celebrated their first wedding anniversary, and many fans think that a Kate Middleton pregnancy must be coming soon. One media outlet has Kate on the cover this week with the supposed "first bump photos," but fans who watched Catherine Middleton and Prince William in Tuesday's events think this is another round of rumors with little to no substance.
InTouch Weekly has a cover story on their new issue claiming Kate Middleton's baby bump is visible in "a rare unguarded moment." The magazine claims that witnesses who saw her shopping May 31 noticed the bump, and thought she had a glow in her cheeks along with the fact that "Her face is more rounded – and so is her bottom." Of course they note that the Palace has been quiet on the topic.
In contrast to the photo of Kate Middleton's "baby bump" on their cover, many fans watched the Duke and Duchess of Cambridge during Tuesday's Diamond Jubilee festivities. It would be difficult to say there was any hint of a Kate Middleton baby bump in any of those pictures, as the Duchess appeared as slim as ever.
What do you think of Kate's pregnancy rumors? And if they are indeed true, when do you think will the Palace announce it to the public?
Source: Examiner
Image: International Business Times