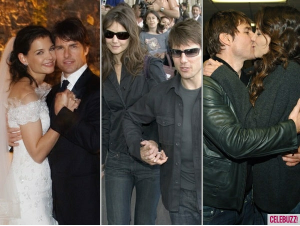 Last week, Tom Cruise took daughter Suri and son Connor to an awards ceremony in New York. Meanwhile, Katie Holmes was on the other side of the planet in Taiwan. The official reason was to promote an ice skating event. Now that Holmes filed for divorce on Friday, according to People, Holmes' Taiwan trip seems more like a warning sign than anything else.
In recent months, the couple was rarely photographed together, even when the two were in the same city. What has been spotlighted, particularly in the Daily Mail, is Holmes' recent style. The usually impeccably dressed actress has been photographed looking like, well, a down-to-earth mom. Untucked button-downs, jeans, loosely wet knotted hair — none of which would raise alarm bells unless you were a superstar known for a meticulously managed makeover since her marriage began more than five years ago.
One stressor on the relationship could stem from Cruise's devotion to Scientology — it's long been blamed for his split from Nicole Kidman – and the serious allegations of his mistreatment of lower-ranked members of the religious group, as this New Yorker article pointed out.
If Holmes thought her marriage to a superstar would be a boon to her career, she was wrong. Since their union began about six years ago, her professional life has taken a backseat to being a wife and mother. That may have been her choosing, but a recent interview with Cruise in Playboy suggests an unsettled Holmes, who wanted more from her career than just being known as a superstar's wife.
It's something Cruise's second ex-wife, Nicole Kidman, was all too familiar with. When asked in an interview with Vanity Fair whether women could have both marriage and career, she said of her marriage to Cruise: "I think I had to choose. I think (the marriage) would have come down to it. I suppose it wasn't meant to be."
What do you think is the real reason why Katie Holmes decided to file for divorce from Tom Cruise? Ladies, would YOU date Tom Cruise despite all the Scientology stuff?
Source: Yahoo News
Image: Celebuzz!