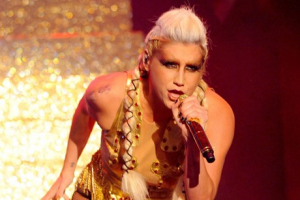 Ke$ha has just — shockingly — come out and said she never wanted to sing the controversial lyrics in "Die Young" — even though she's listed as one of the writers of the song.
'Inappropriate'
TMZ broke the story … Ke$ha's hit song has been yanked from a huge number of radio playlists since the Sandy Hook Elementary School massacre.
Ke$ha just tweeted, she understands why her song is now inappropriate, adding,  "I had my very own issues with "die young" for this reason.  I did NOT want to sing those lyrics and I was FORCED TO."
The lyrics include this:  "Let's make the most of the night like we're gonna die young.  We're gonna die young.  We're gonna die young."
'Backlash'
So far, we do not know how Ke$ha was FORCED to sing those controversial lyrics. Still, we know that she received a considerable amount of backlash for being one of the writers of that song.
Do you think Ke$ha's single "Die Young" is indeed offensive and inappropriate, or are people just overreacting? And do you honestly believe that she was just "forced" to sing those lyrics as she claimed on Twitter? Feel free to share your speculations with us here. Tell us what you think of Ke$ha's "Die Young" single via the comment box below!
Source: TMZ
Image: 3 News