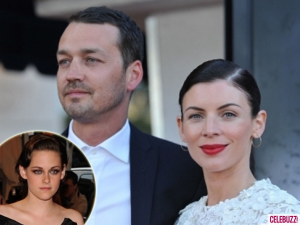 The mother of Rupert Sanders' two children has a non-negotiable if she's to let him back into her knickers: He can never direct a Kristen Stewart film ever again!!! That means absolutely no Snow White and the Huntsman sequel! No chance!
One source goes into great detail to explain Liberty Ross' situation, revealing:
"Liberty let it be known in no uncertain terms that Rupert can't direct the sequel to Snow White and the Huntsman. They are trying to work things out after he was caught having an affair, and that is one of the sticking points. She just doesn't want him to ever work with Kristen again.




Rupert is obviously disappointed because Snow White and the Huntsman was his directorial debut, and he had hoped on building on that with a follow-up after some decent reviews. But he knows his actions were inexcusable, and he's going to have to bite the bullet and listen to his wife on this one.

Also, when Rupert signed up for it, he didn't know he was going to get a chance to direct a sequel. His contract with Universal was only for one movie. It was a verbal agreement that he was to take the reigns on the sequel, nothing was ever signed. Kristen, as the film's lead, will get preference over Rupert and Universal will just find another director."
Do you think it is fair for all the parties concerned? Do you think Rupert Sanders can bounce back on his career after the cheating scandal with Kristen Stewart? Feel free to sound off in the comment box below!
Source: Perez Hilton
Image: Celebuzz