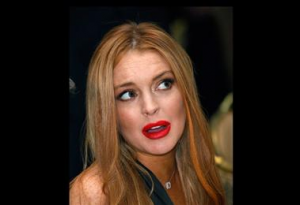 Lindsay Lohan was arrested for leaving the scene of an accident early this morning after allegedly clipping a pedestrian in downtown Manhattan … TMZ has learned.
Law enforcement sources tell TMZ, Lindsay was pulling in to park her Porsche Cayenne near the Dream Hotel in downtown NYC when — at a very low speed — she allegedly hit the knee of a 30-something year old guy. That was around shortly after midnight. We're told one of Lindsay's passengers in the SUV got out and checked the vehicle for damage, and then LiLo and co. went inside the hotel.
We're told someone called police while Lindsay was inside … and when she walked out of the hotel — around 2:30AM ET — officers arrested her. According to our sources … Lindsay was taken to the station, fingerprinted, photographed and booked for leaving the scene of an accident — a misdemeanor — and then released with a desk appearance ticket … meaning she did not have to pay bail before release.
We're told alcohol was not involved. We're told the alleged victim was hospitalized … however, he was not knocked down or dragged, and didn't have any visible injuries.
Even without a conviction, Judge Stephanie Sautner – the judge in the jewelry theft case — could haul Lindsay's butt into court if there's probable cause to believe she committed a crime.
Lindsay is telling friends she had no idea she hit anybody and it wasn't until she came out and got arrested that she knew anything was going on. Surveillance video of the Lindsay accident appears to show her accuser was exaggerating. Lindsay's accuser says she was "slurring" her words and reeked of booze.
It's getting harder and harder to tell each time, but we still gotta ask: Who do you think is telling the truth — Lindsay Lohan or the alleged victim? Shout out your thoughts via the comment box below!
Source: TMZ
Image: Global BC