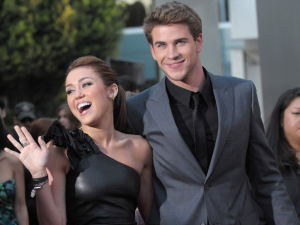 Be on the look out for a achy-breaky baby bump! Miley Cyrus has plans to make Billy Ray Cyrus a grandaddy very soon!
A source close to the Cyrus clan revealed that Miley and her fiancé of one month, Liam Hemsworth, are planing on starting a family —possibly even before the wedding! Our source claims:
"Miley and Liam really want to have a baby quickly."
Um…. wow. Though we aren't so sure getting knocked up — or even getting married — at 19 is a super fantastic idea, the Cyrus insider says:
"They are both mature and ready for this. Miley is 19 going on 40."
What does Billy Ray have to say? The source adds that if the teen and 22-year-old Liam do decide to get preggers, they have the full support of the Cyrus family. Obvi they can afford a kid, and of course any child that couple pops out is gonna be crazy beautiful. Still, this seems way too fast! We just hope they put a LOT of thought into this decision before rushing into parenthood!!!
What do you think — is the newly-engaged couple way too young to get married, let alone contemplate on becoming parents right away? OR do you think they have it in them to make their marriage last and create a happy family together?
Source: Perez Hilton
Image: Celebrity Fluff