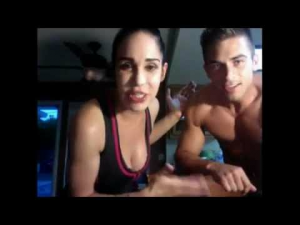 Octomom – the woman who said she's been celibate for the last 13 years … and planned to stay that way until her kids reached 18 — now has her very own BOYFRIEND … and TMZ has the video evidence.
Thirty-six-year-old Nadya Suleman arrived at LAX moments ago and her new boyfriend Frankie G picked her up outside. Frankie — a 23-year-old amateur bodybuilder — even gave her a peck on the lips when she arrived.
Sources tell us the couple's been dating about two months and it's getting serious — but the best part … when we asked Octo how they met … the burgeoning porn star replied, "Through church." She wasn't kidding either.
It's all pretty crazy — because back in March, Octomom told Closer magazine, "I've been celibate for 13 years and plan to remain so until the octuplets are 18." She insisted, "Men love me, but I will be celibate for the next 15 years."
Do you think Octomom will ever stand by  her publicized decisions and stop changing her mind about things? In your opinion, is this guy really serious about his relationship with the great Octomom, or is he up to something else? Feel free to share your opinions with us in the comment box below!
Source: TMZ
Image: Article WN