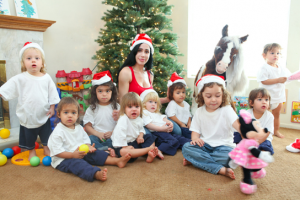 Nadya "Octomom" Suleman is in danger of losing her 14 children after police paid a visit to her La Habra, California home on Tuesday night after her hairstylist visited her home to do her hair, found deplorable living conditions, and filed a complaint.
Not only were the youngest of her brood, the 3-year-old octuplets, dirty and walking around barefoot in only T-shirts, but they were being forced to urinate and defecate in training potties set up in the backyard because the house's plumbing was not working, according to the stylist named Stephanie (who will not release her last name).
In one photo Stephanie took, the mother-of-14 is shown happily flaunting her new 'do — for which she paid $520 (that includes two previous haircuts and $80 worth of product), despite the fact she's on welfare — while behind her a chair is wedged underneath a doorknob, as if it to keep the occupants inside.
On Tuesday night, three reps from Child Protective Services along with a police officer went to the Suleman home to investigate Stephanie's claims. In a video, children can be heard as the group repeatedly bangs on the front door until Suleman, 36, finally lets them in. Before the video cuts off, she can be heard telling them, "Excuse the graffiti." After an hour-and-a-half, CPS left after determining the children were not in immediate danger, but a spokesperson did tell TMZ the investigation is ongoing and there will be a follow-up visit to the Suleman home.
Do you think Octomom needs extra help with their kids? Share your thoughts and opinions with us!
Source: Yahoo News
Image: Hollywood Life