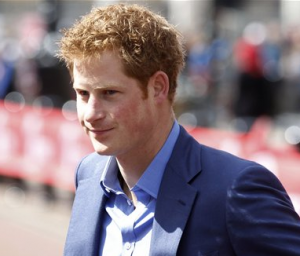 Prince Harry, 27, arrived in Washington, D.C., to receive the 2012 Distinguished Humanitarian Leadership Award from the Atlantic Council, an international affairs think tank, at its annual awards dinner on Monday.
The prince, in his first-ever visit to the U.S. capital, was recognized for his work with military veterans, servicemen and women that he does through the Foundation of Prince William and Prince Harry. He accepted the award on his brother's behalf.
The award's presenter, General Colin Powell, referred to the prince's military title, Captain Harry Wales. Powell spoke of the prince's ability to bring a more youthful, female crowd to the usually staid dinner. "For that, we really, really thank you," Powell joked.
Taking the stage in the ballroom of the Ritz-Carlton in a black tuxedo, Harry began his remarks by laughing and saying, "This isn't daunting at all. Generally, I obviously don't feel that I've done nearly enough to deserve [this award]," he said, before speaking of his work with wounded veterans. "The very least we owe them is to make sure that they and their brave families have everything they need through the darkest days – and, in time, regain the hope and confidence to flourish again."
The prince's presence was unusual even for the especially distinguished crowd inside the ballroom, but it really stirred the crowd of several dozen screaming people gathered outside.
What do you admire most about Prince Harry? Share your thoughts with us!
Source: People
Image: WTO0P