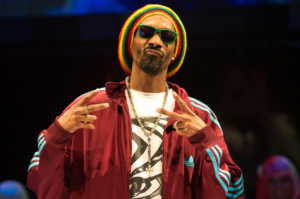 Snoop Dogg says he was "born again" during a visit to Jamaica in January, is changing his name to Snoop Lion and is ready to make music that his "kids and grandparents can listen to." The artist known for gangster rap is releasing a reggae album called "Reincarnated" in the fall.
Snoop Dogg, who is Calvin Broadus Junior in real life, narrated in a statement that he got the name Snoop Lion from Rastafarian priests during his trip to Jamaica for the documentary Reincarnated.
"I didn't want to be Snoop Dogg on a reggae track… I wanted to bury Snoop Dogg and become Snoop Lion, but I didn't know that until I went to the temple and received the name Snoop Lion from the Nyabingi priest," the rapper said. "I went to the temple, where the High Priest asked me what my name was, and I said 'Snoop Dogg'. And he looked me in my eyes and said, 'No more. You are the light; you are the lion'."
The West Coast rapper held a news conference in New York on Monday. Later he played five songs for a small crowd, including one called "No Guns Allowed." It features his daughter.
The album will be followed with a documentary of the same name. It features him making music and will include some personal elements of his life, a producer of the film said. It will debut at the Toronto International Film Festival in September.
Does the new name "Snoop Lion" suit the veteran rapper Snoop Dogg? Will you be supporting his shift from rap to reggae?
Source: Yahoo News
Image: Urban Islandz