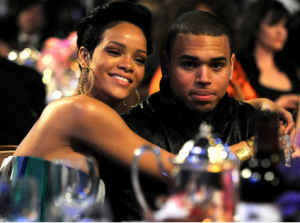 According to one source, Chris Brown secretly met up with Rihanna and her family for the Miami Heat game this past weekend!
They say he was all smiles with Rih and her grand-daddy, even going on to explain:
"Rihanna arrived first in a yellow cab, with her family and friends, and was escorted to a private room. Brown arrived a little later and joined her and her family. They sat on the same couch together rooting for the Heat. There was no sign of his girlfriend."
The same source insists the two are seeing each other more and more in private lately, even after the nasty Theraflu jabs:
"Everyone in the business assumes she and Chris are getting back together, and it is only a matter of time before they'll be more public about it. It's like she is testing the water — first they work on music together, then they hang out in a friendly way, so the public won't be completely shocked when they step out together publicly."
Surely there is more to the story here! There's no way she can be getting back together with him after he rapped, "don't f*** with my old b*tches, they like a bad fur, every n***a in the industry done had her!"
Is there really nothing or something going on between Chris Brown and Rihanna? Whaddaya think? Give us a holler below!
Source: Perez Hilton
Image: Scrink