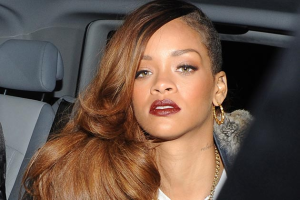 Rihanna came out of a medical building in Bev Hills Tuesday … and said she's doing a lot better, but it's done nothing to stop the pregnancy talk.
'More than a month now'
Rihanna has cancelled 4 concert dates on her Diamonds World Tour … which kicked off on March 8. Could she really be pregnant?
Sources connected to the singer told TMZ in early March she was suffering from a throat infection.  Thing is … it's been more than a month now and there are clearly still issues. What kind of virus or bacteria could cause a throat infection for one month?
'Speculating that she's pregnant'
Because the info coming from Rihanna's camp has been sketchy … there have been a slew of tabloid stories speculating that she's pregnant. Well, let's just wait if our dear RiRi better comes out to clear all the pregnancy rumors (that is, IF they're really just rumors!) before everything gets blown out of proportion.
Do you think there is a grain of truth in the pregnancy rumors currently swirling around Rihanna? Or would you rather believe that she has a recurring throat infection? Feel free to speculate with us and share your opinions to the world. Let your thoughts be heard via the comment box below!
Source: TMZ
Image: Pop Crush