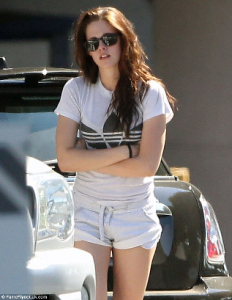 Kristen Stewart's public apology to Robert Pattinson didn't magically heal their fractured relationship. The British actor has moved out of their Los Angeles home after news broke that she cheated with a married director.
Wednesday afternoon, Stewart – looking worse for the wear in a white Adidas T-shirt, rolled up and frayed gray gym shorts, and black shoes – was photographed on a Los Angeles street appearing distraught. She wiped tears from her eye, rubbed her head, and held her crossed arms to her stomach. Well, there seems to be a good reason behind those tears: People magazine reports that Pattinson, 26, has packed his bags and left the home he shared with Stewart, 22. The "heartbroken and angry" actor is "in seclusion" and "not in contact" with his girlfriend of three years.
On Tuesday evening, Us Weekly posted their cover story about Stewart cheating with her "Snow White and the Huntsman" director Rupert Sanders. In the latest issue of the magazine, there are a series of photos, taken July 17, of Stewart and Sanders kissing each other in the actress' MINI Cooper and then a secluded park-like area called Pacific View Trail, which overlooks the Hollywood sign.
After the magazine hit newsstands Wednesday, Stewart admitted to cheating and issued a public apology. Sanders – whose wife Liberty Ross played Stewart's mother in "SWATH" – also issued his own statement. While Pattinson has yet to comment on the cheating scandal, his decision to pack up and leave the home he shares with Stewart speaks volumes.
Do you think Robert Pattinson could ever forgive Kristen Stewart for cheating on him with a married director? Feel free to speculate with us in the comment box below!
Source: Yahoo News
Image: Hello Celebrity