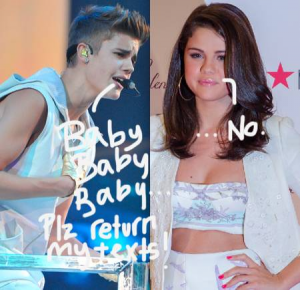 Selena Gomez spent the last day blocking her phone numbers and other communication devices so Justin Bieber cannot contact her … TMZ has learned.
'Absolutely involved another woman'
Sources familiar with the situation tell TMZ … Selena wants no contact with Justin, so whatever they tried hashing out during their sit-down last Sunday didn't work.  She has blocked her phone (which includes texting).  For some reason, she's still following Justin on Twitter, but we're told she's blocked him on all forms of contact.
And … we've learned … the breakup absolutely, positively involved another woman — though our sources didn't know which one.  There's been speculation that it's a Victoria's Secret model.  We don't know for sure if it's her, but we know it involves another woman.
'Jelena reconciling?'
It appears that Justin Bieber and Selena Gomez are really never ever ever getting back together! Still, R-Patz and K-Stew have been through much worse, and they ended up reconciling.
So, we gotta ask… Do you think the Jelena couple will eventually find their ways back to each other's arms? And which Victoria's Secret model could Justin have been fooling around with to draw such fierce determination from Selena to block him from her life? Feel free to shower us with your thoughts in the comment box below!
Source: TMZ
Image: Perez Hilton