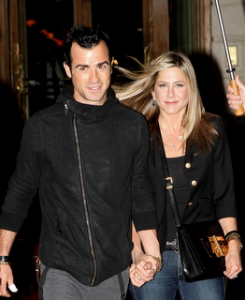 Jennifer Aniston is getting married to boyfriend Justin Theroux! That should knock out all those breakup rumors!
"Justin Theroux had an amazing birthday on Friday, receiving an extraordinary gift when his girlfriend, Jennifer Aniston, accepted his proposal of marriage," his rep tells PEOPLE exclusively. Ain't that the best and sweetest birthday gift a man could ever have?
Aniston, 43, and Theroux, 41, an actor-screenwriter, have been dating for more than a year. The couple – who both starred in Wanderlust – were first spotted together in May 2011.
"They are great friends," a source told PEOPLE at the time. And now, they have bloomed to become not only the best of friends, but also a match made in heaven!
During an interview on Good Morning America, when asked about her personal life, Aniston couldn't hide her emotions: "Yes, I'm very happy. I'm extremely lucky, and I'm extremely happy," she said.
Are you as happy as we are that the breakup rumors surrounding Jennifer Aniston and Justin Theroux are not true? OR are you a bittergourd who does not like seeing happy endings for other people? When do you think will be their big day? Shout out your excitement in the comment box below!
Source: People
Image: The Gossip Columns