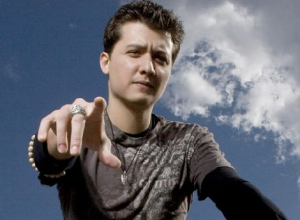 Ryan Buell, paranormal investigator and star of A&E's hit series Paranormal State, has been diagnosed with pancreatic cancer. He is 30 years old.
Buell, who wrote a memoir, Paranormal State: My Journey Into the Unknown, in 2010, has been speaking out about his battle on his official fan page. And he wants to make something clear: He's not the only one struggling with this terrible disease.
The post asks that Buell's fans support organizations that are working to find a cure and organizations that offer support to loved ones of those with the disease, citing the Pancreatic Cancer Action Network and its taking action initiative. He shared a superhero-esque photo of himself (with the headline "Cancer: Even the Greatest of Heroes Have to Take the Fight Within … Soldier On!").
"I know there are many of you suffering from illnesses, and not just cancer. I say to all of you: SOLDIER ON!" Buell wrote with the photo. "I know the pain that you will feel. And the pain for treatment. I still say SOLDIER ON! Let's think of one another during those moments, even though we don't know each other."
Pancreatic cancer is highly lethal and claims the lives of thousands every year – Steve Jobs (who had a rare form) and Patrick Swayze were two of the most public patients to battle the disease.
Do you know someone who is also fighting a battle with cancer? Tell us how these stories inspire you to fight everyday's battles!
Source: People
Image: Ghost TV Blogs