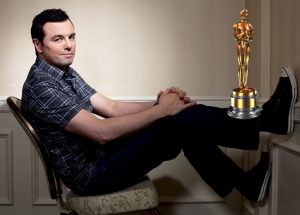 Family Guy creator Seth MacFarlane will host the 85th Academy Awards on Sunday, Feb. 24, on ABC.
MacFarlane, 38, who is also the co-creator of American Dad! and The Cleveland Show, is no stranger to live performance. In September, he kicked off Saturday Night Live's 38th season by hosting the premiere episode, and he's entertained sold-out audiences at both London's Royal Albert Hall and New York's Carnegie Hall.
"Seth is unbelievably talented," Academy of Motion Picture Arts & Sciences president Hawk Koch said in a statement. "We couldn't be happier with the creative team we've assembled."
MacFarlane – who has been nominated for 13 Emmys and two Grammys during his illustrious career – shared his own excitement in a statement.
"It's truly an overwhelming privilege to be asked to host the Oscars," MacFarlane said. "My thoughts upon hearing the news were, one, I will do my utmost to live up to the high standards set forth by my predecessors; and two, I hope they don't find out I hosted the Charlie Sheen Roast."
Do you think Seth MacFarlane would make a good host for the 85th Oscars? Who did you expect to be chosen as host? Feel free to broadcast your personal expectations and votes for the next Oscars!
Source: People
Image: Jo Blo