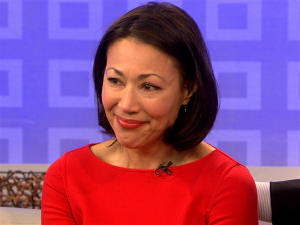 After more than a week of furious speculation about her future, Ann Curry broke down in tears on Thursday as she told viewers she would be leaving the "Today" show after a little more than a year as co-host.
"I am so grateful to all of you," Curry said at the end of the show's second hour. "You are the real 'Today' show family… I have loved you," Curry, seated on a couch flanked by her "Today" colleagues, continued. "And I have wanted to give you the world. And I still do."
Curry—who will remain at NBC News as a correspondent and anchor-at-large—told USA Today that it was not her idea to leave the show, which recently lost its lead in the morning-show ratings war with ABC's "Good Morning America." It was NBC's. After her emotional speech, co-host Matt Lauer consoled her: "You have the biggest heart in the business," Lauer said. "The way you care about people comes through. You put that on display every single day for almost 20 years. Most importantly, you've made us better, and we thank you from the bottom of our hearts."
Curry's emotional on-air exit was expected. Curry, who said flatly she was not given enough time to work out the kinks at "Today" added: "I know I am not to blame for the ratings worries. And my bosses have said to me there are many factors involved. There is no doubt that the rating wars have become meaner and less focused on our responsibilities as journalists."
Curry's abrupt exit is being compared to the way NBC handled Conan O'Brien's elevation to "Tonight Show" host, only to pull the plug on Coco just five months into the experiment.
What will you miss about Ann Curry on Today? Was NBC's decision to drop Curry from the show a wise one?
Source: Yahoo News
Image: MSNBC