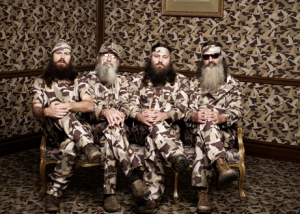 The cast of A&E's runaway hit reality series "Duck Dynasty" has received big raises right before Season 4 premieres, Deadline reports.
'Four times more'
After prolonged talks, the Robertsons will earn approximately $200,000 an episode to be divided among the nine adults and 11 kids. This is about four times more than what the family banked previously. The new deal also includes additional seasons of the series, and series/cast options.
Talks for a new agreement began in early 2013 and initially delayed production on Season 4. "Duck Dynasty" eventually began production while negotiations were still underway.
'Most-watched A&E series telecast in network history'
The Season 3 finale of "Duck Dynasty" was the most-watched A&E series telecast in network history, grabbing 9.6 million viewers and 5.5 million viewers in the adults ages 18-49 demographic.
"Duck Dynasty" returns Wednesday at 10/9c on A&E.
Are you a fan of the 'Duck Dynasty' reality series? Do you think that huge salary bump is well-deserved by the cast? Feel free to share your thoughts, expectations, and opinions with us regarding this latest celebrity news. Let your voice be heard via the comment box below!
Source: TV Guide, Fox News
Image: The Hollywood Reporter