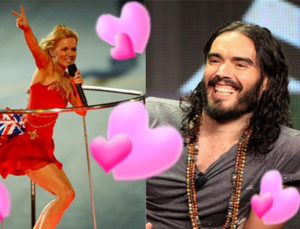 YES! YES! YES! Russell Brand has found himself a new pop star to be his lover! According to multiple reports, the British comic has ended his relationship with yoga instructor Isabella Brewster and is now getting serious with none other than Spice Girl Geri Halliwell!!
Our insiders reveal:
"Things are getting very serious between them — they're a proper couple now. They had met several times in the past, but really got to know each other during the Olympics. People thought Russell was joking at the time, when he said he had a crush on Geri all over again, but it was true. They just clicked — they have so much in common. They've exactly the same sense of humour and are serious about clean living."
It sounds like Russ is doing this right. He became Geri's friend before her lover, which — from what we understand — is what she really, really wanted. HA! According to his pals, the comic is totally changing his schedule to spend time with the single mom.
EKK! We couldn't have dreamed up a better couple if we had tired! We only wish this news didn't come during such a hard time for the ex-Mrs. Brand…
Do you approve of Russell Brand and Geri Halliwell's newfound romance? How do you think Katy Perry would react to her ex-husband's new spice? Feel free to give us a shout out in the comment box below!
Source: Perez Hilton
Image: The Vine