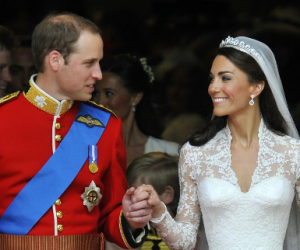 He was wide-eyed and all smiles as he took Kate as his wife at Westminster Abbey last April. But, like royal watchers around the world, the Duke of Cambridge hardly slept a wink the night before his big day a year ago.
The crowds gathered on The Mall, the London thoroughfare in front of Buckingham Palace, and the excitement of his impending wedding watched by the world made him restless, he tells interviewer Alan Titchmarsh for an upcoming ITV1 documentary on his grandmother, Queen Elizabeth II.
"I hadn't slept at all that night because obviously all the crowds were on The Mall," he says in Elizabeth: Queen, Wife, Mother, which airs in the U.K. June 1. "They were singing and cheering all night long. So, the excitement of that, the nervousness of me, and everyone singing meant I slept for about half an hour, I think."
His biggest fear?: "The hardest thing was trying to walk down the stairs with my spurs on, sideways. I had visions of myself and my brother colliding and crashing down the stairs." Still, "It was good fun, it was really good fun," he adds.
When it came to ironing out details for the big day, William says his grandmother was a source of wisdom, particularly when it came to the invitations. As he has gotten older, William says that they have grown closer.  William says he greatly admires how she came to the throne at the young age of "only 25." And when it comes to the throne, she will be a hard act to follow.
Even with all the grand preparations, Royals do get nervous, too! Share your pre-wedding jitters with us!
Source: People
Image: International Business Times