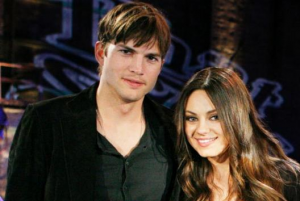 Ashton Kutcher and Mila Kunis enjoyed some serious alone time together during an escape from L.A. last weekend.
The longtime friends and That '70s Show costars went on a three-day getaway to the coastal town of Carpinteria, Calif., just south of Santa Barbara. While away, Kutcher, 34, and Kunis, 28, dined on sushi, shopped for fruit and flowers and spent plenty of time in private. They weren't spotted out on Saturday but made a coffee run the next day before driving back to L.A., where a solo Kutcher took in the Lakers game court-side.
Last week Kunis's rep denied rumors that the pair were an item after they were spotted going to dinner with friends and reportedly shopping for furniture. Neither rep would comment on their weekend outing, but a Kutcher source tells PEOPLE that the Two and a Half Men star has long held a torch for Kunis.
Still, another source close to the actor says Kutcher isn't looking for romance right now: "He always talked about Mila like a little sister. They're definitely close pals and have been. I think if anything she's a good time for him. But he's not looking for anything serious."
Do you think something is going on between Ashton and Mila? Feel free to speculate with us!
Source: People
Image: Pop On The Pop