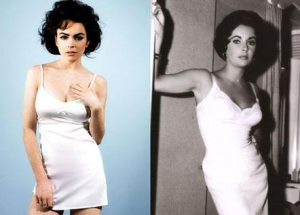 Looks like LiLo is set for a comeback: Lifetime has confirmed that Lindsay Lohan will be taking on the role of Elizabeth Taylor in the biopic "Liz and Dick," a TV movie that will focus on the star's on-again, off-again romance with Richard Burton.
Lifetime has referred to Lohan, 25, who starred in "Mean Girls" and "The Parent Trap" and who is off probation, as "perfect" for the part. In an interview with E! News, producer Larry Thompson said, "We could hire actresses that would be great and people would watch it, but I think that Lindsay brings to Elizabeth Taylor and to our project that sparkle of magic, that sparkle of today."
Along with sharing good looks, both stars wrestled with addiction in the past, with each of them spending time at the Betty Ford Center.
In a statement to Us Weekly, Lohan said, "I have always admired and had enormous respect for Elizabeth Taylor. She was not only an incredible actress but an amazing woman as well. I am very honored to have been asked to play this role."
Is Lindsay Lohan the perfect actress to play the role of Elizabeth Taylor? Tell us what you think!
Source: Yahoo News
Image: Soda Head