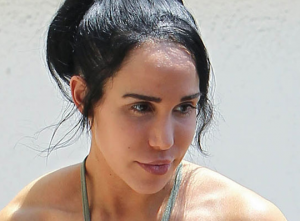 Rest easy America, your tax dollars are safe … 'cause Octomom + Porn + Stripping = NO MORE WELFARE!!!!!
Sources tell TMZ … the mother of 14 no longer needs government assistance thanks to her various XXX gigs. We're told Octo has raked in more than enough cash to support herself — we're talkin' 6-figs. Now, tell us if that ain't good news for everybody!
TMZ broke the story … Octo went on welfare back in March (resulting in a slew of death threats) claiming she needed the cash to help feed her family. But as of June, her 3-month cycle ended and she chose NOT to renew it. That ought to end all those horrible death threats for the poor single mom!
We're told Octo still stands by her decision to go on welfare in the first place … but she's happy to show the world it was just a temporary situation. Kind of like her clothes … at a strip club.
How do you feel about Octomom leaning on welfare for the survival of her family? And are you happy for the single mom now that she is earning enough to feed her 14 kids without the government's assistance? Feel free to share your thoughts and opinions with us via the comment box below!
Source: TMZ
Image: Celebrity Fix