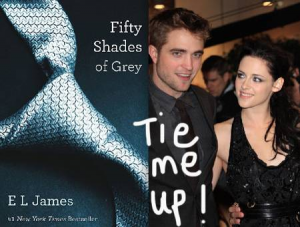 Hey now! That's not nice! To her credit, Kristen Stewart has worked really hard on hiding her awkwardness. She barely ever bites her lip anymore! Oh, that's not what she meant? Our apologies, K-Stew.
As you might've heard, people are really invested in this 50 Shades of Grey book. It's sold a lot of copies, made tons of money, and caused just about everyone everywhere to speculate who should star in the leading roles should the story be made into a film.
E.L. James, the author of the fan fic turned erotica turned best-seller was asked at a recent U.K. fan event if she would be cool with Stephenie Meyer's choices to be Bella and Edward taking on her kinky creatures Ana and Christian. Her response is … disappointing, as she shared:
"I think it would be too strange ! It would just be .. Uggh weird!"
We think… you're right. And also, NUTS! If we've learned anything, we know that Robsten = box office GOLD! Those two rack in MILLIONS! Millions UPON millions! But millions you've got, dontcha James. We see how it is.
Do you really think that Kristen Steward is "too weird" to play Anastasia Steele? Who's your best bet on the cast of Fifty Shades of Grey? Tell us your list of nominees!
Source: Perez Hilton
Image: Perez Hilton