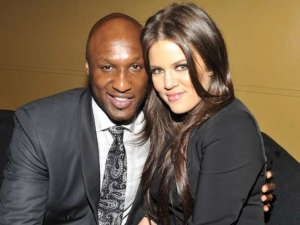 Khloé Kardashian has gotten used to sharing her life on television, but now the reality star and her husband Lamar Odom are stepping back from the spotlight.
"We just wanted to prioritize a little," Kardashian, 27, tells PEOPLE in an exclusive interview as the couple tables their show Khloé & Lamar until his basketball career is back on track. "We just wanted a little pause. Part of being married is knowing when your husband needs your support."
While Kardashian says she always made sure cameras weren't around during days when Lamar, 32, had a basketball game (he's currently sitting out the season after a difficult trade to Dallas), now that they'll only be appearing on E!'s Keeping Up With the Kardashians, and their own daily lives will no longer be on display, "there's less pressure on us."
That pressure had certainly been building. But Kardashian says, the risk of damaging her relationship with Lamar wasn't worth it:  "I'm a modern girl, but you should put your husband first," she says. "I like to think divorce is not an option."
Do you agree with Khloe that stepping out of the limelight is a good step for their marriage? Feel free to share your comments below!
Source: People
Image: Drew Reports