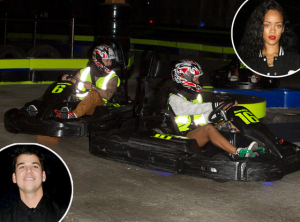 The Kardashian family's resident goofball brother, Rob Kardashian, spent the entire day – and night – with pal Rihanna on Saturday, causing fans to speculate that the pair might be more than just friends.
Kardashian, 25, and Rihanna, 24, kept it casual when they squeezed into a pair of go-karts at Racer's Edge Indoor Karting in Burbank, Calif. Saturday afternoon, racing around the track with colorful helmets in tow. Rihanna's stylist pal Mariel Haenn was also on hand, according to Just Jared.
Later that night, the pair headed off to enjoy the rest of the evening at the Playhouse nightclub in Hollywood, according to E! News. The site reports that Rihanna's ex Chris Brown was also at the club, but the two didn't interact.
In a recent interview with Oprah, Rihanna admitted that she still has feelings for Brown, 23: "We love each other and we probably always will, and that's not anything that we're going to try to change," she told Winfrey. "I think he was the love of my life. He was my first love and I see that he loved me the same way."
Kardashian, meanwhile, is rumored to be dating singer Rita Ora, though neither of the two have ever openly admitted to their relationship.
Do you think there's something going on between Rihanna and Rob Kardashian? Does this new couple alert gain a thumbs-up from you or a thumbs-down? Shout out your speculations in the comment box below!
Source: NY Daily News
Image: E! Online