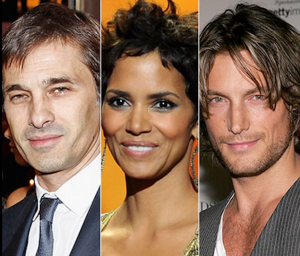 As tensions continue to build following this month's court decision denying Halle Berry the right to relocate her daughter to France, the situation came to a head Thursday morning at the actress's California home.
'Brawl'
A physical altercation occurred between Berry's ex-boyfriend Gabriel Aubry and fiancé Olivier Martinez as Aubry was dropping 4½-year-old Nahla off at her mother's house to celebrate Thanksgiving, the Los Angeles Police Department confirms to PEOPLE.
According to TMZ, Martinez, 46, approached Aubry, 36, to speak with him and the two began to brawl. Both men were hurt – Martinez may have a broken hand and neck injuries, while Aubry suffered a broken rib, contusions to the face and a possible head injury – and were treated at the hospital.
'Emergency protective order'
"Gabriel attacked Olivier and Olivier defended himself," a source tells PEOPLE.
Once released from the hospital, Aubry "was booked for a private persons arrest for battery," Andrew Smith, Commanding Officer, LAPD Media Relations and Community Affairs Group tells PEOPLE. "Bail is $20,000." TMZ reports that he has since been released from custody. Additionally, PEOPLE confirms that an emergency protective order was granted requiring Aubry to stay 100 yards away from Berry, Martinez and Nahla.
Who do you think started this messy Thanksgiving brawl? Team Olivier or Team Gabriel? Feel free to speculate with us and share your thoughts via the comment box below!
Source: People
Image: Bossip