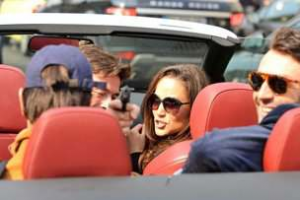 Photos of Pippa Middleton have made the sister-in-law of England's presumptive future king a worldwide sensation, but nothing quite like the shot this weekend when she was snapped laughing as a male companion in a car pointed a gun at a photographer following them in Paris.
The image shows Middleton, the younger sister of the Duchess of Cambridge, Kate Middleton, looking back at the paparazzo and grinning as her friend, the driver, reaches down and aims what appears to be the gun. But now it appears that the excitement, which included reports that Pippa Middleton could face criminal charges, may have been overblown.
ABC News has learned that the photographer says he knew all along the gun was a fake and has been telling people he never felt scared. Even friends of one of the young fashionistas in the car told ABC News today that they have the toy gun in their possession. The Sun had reported that the Paris Judicial Police department is "poised" to launch a probe into the incident, but police told ABC News that there is no investigation, because no one has filed a complaint.
It was revealed in January that lawyers for Middleton sent a cease-and-desist letter around to six media agencies that distribute paparazzi photographs worldwide.  The letter was said to warn the agencies that unless their photographers stop following Middleton, she will pursue legal action, which could include an injunction and legal costs.
Buckingham Palace said it would not comment on the incident, since it does not officially represent Middleton because she is not a member of the royal family.
Do you think Pippa saw the incident as just a big joke for the paparazzo? Tell us your opinion!
Source: Yahoo News