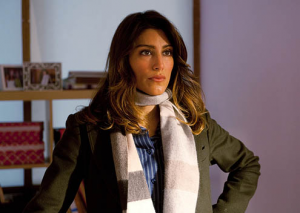 Jennifer Esposito is temporarily turning in her badge on Blue Bloods amid a contentious behind-the-scenes dispute with CBS.
'Very limited part-time schedule'
On Saturday, CBS released a statement to our sister site Deadline saying the actress, who plays Det. Jackie Curatola on the Friday night procedural, "informed us that she is only available to work on a very limited part-time schedule. As a result, she's unable to perform the demands of her role and we regretfully had to put her character on a leave of absence."
'Scheme to get a raise?'
Esposito, who has been very public about her battle with Celiac Disease, quickly shot back on Twitter that "CBS put me on unpaid leave and has blocked me from working anywhere else after my doctor said you needed a reduced schedule due to Celiac. CBS didn't listen to my doc and I collapsed on set. Which everyone saw! After a week off my doc said I could return to work but CBS implied that I was not truly ill and this was a scheme to get a raise! It's been almost two months without bringing me back to work + keeping Me from working anywhere else!… Absolutely shameful behavior."
Esposito's "final" Blue Bloods episode will air Nov. 2. In the meantime, Deadline reports that the show will bring in guest stars to fill the void. First up: Relative newcomer Megan Ketch, who will serve as Danny's temporary partner in at least four episodes.
Who do you think is at fault in this situation — Jennifer Esposito or CBS? Feel free to air out your thoughts and opinions via the comment box below!
Source: Yahoo News
Image: TV Guide