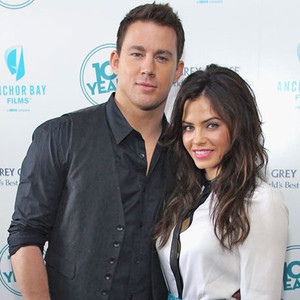 Actor Channing Tatum and his wife Jenna Dewan-Tatum "are pleased to announce that they are expecting the birth of their first child next year," reps for the couple confirm to PEOPLE exclusively.
'Babies on the brain'
Crowned PEOPLE's Sexiest Man Alive in November, the Magic Mike star admitted he and the American Horror Story: Asylum actress, both 32, had babies on the brain, adding a family wasn't too far off in their future.
"I'm ready; I think she's ready," Tatum told PEOPLE recently. "The first number that pops into my head is three, but I just want one to be healthy and then we'll see where we go after that."
'Sexiest Dad Alive'
Now that the news is out, the Sexiest Man Alive is on his way to become Sexiest Dad Alive. And we are sure that these two will be having very good looking kids in the future. Congratulations Channing and Jenna!
So, do you think Channing and Jenna will be having a boy or a girl? And what appropriate (or maybe unique) moniker should be given to the gorgeous future baby? Feel free to share your greetings and suggestions with us! Air out your thoughts on this latest celebrity baby news via the comment box below!
Source: People
Author: Anya Leon with reporting by Julie Jordan and Antoinette Coulton
Image: E! Online