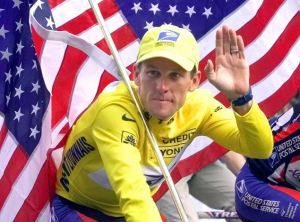 His reputation is in tatters, the cycling victories that made him a legend are wiped away, and the sponsors that gave him enormous wealth have fled faster than a downhill race to a finish line. But that's only the beginning. Lance Armstrong is also being asked to pay back millions of dollars. And the term "Armstrong era" is now apparently a moniker for widespread cheating.
'Steadfastly maintained his innocence'
The epic downfall of cycling's star, once an idolized icon of millions around the globe, stands out in the history of professional sports. His latest and biggest plunge came Monday when the International Cycling Union stripped the 41-year-old of his seven Tour de France titles. The decision followed this month's finding by the U.S. Anti-Doping Agency that there is "overwhelming" evidence Armstrong was involved as a professional cyclist in "the most sophisticated, professionalized and successful doping program." Armstrong has steadfastly maintained his innocence.
Following the union's announcement, the French Cycling Federation said it was reissuing its call for Armstrong to return 2.95 million euros — nearly $4 million — that he collected for winning the tours. And $4 million might be a trifle compared to what SCA Promotions wants back.
'Wiped out 14 years'
Heavyweights such as Nike, RadioShack and Anheuser-Busch have already fled team Lance, though, like Oakley, they've vowed to continue supporting the Lance Armstrong Foundation, which fights cancer through a program widely known as Livestrong. Armstrong does get to keep one prized possession from his Tour de France days. The Amaury Sport Organisation, which runs the 21-day tour, told CNN it will not ask him to return the yellow jerseys he won.
The agency announced it would ban Armstrong from the sport for life and strip him of his results dating from 1998. The decision wiped out 14 years of his career. The International Olympic Committee also is reviewing the evidence and could revoke Armstrong's bronze medal from the 2000 Sydney Games.
Do you think the sports arena will ever be dope-free? Do you believe Lance Armstrong is truly guilty of all the doping allegations against him?
Source: CNN
Image: NY Daily News