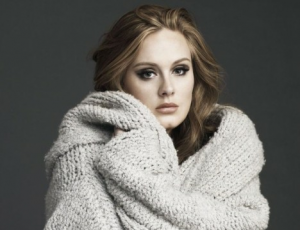 Adele may have made a name for herself singing songs of heartbreak about ex-boyfriends, but her lovelife now seems to be going swimmingly, and in the future, she'll probably be crooning lullabies instead. On Friday via her website, the 24-year-old Grammy-winner announced that she and her boyfriend, 36-year-old Drop4Drop charity CEO Simon Konecki, are expecting a baby.
"I'm delighted to announce that Simon and I are expecting our first child together," Adele posted. "I wanted you to hear the news direct from me, obviously we're over the moon and very excited but please respect our privacy at this precious time. Yours always, Adele xx"
Adele and Simon met and began dating in the summer of 2011, although they did not go public with their relationship until January of this year, when Adele once again made an announcement on her website, to clarify rumors that Simon was still married.
Simon Konecki has a 5-year-old daughter from his previous marriage to fashion stylist Clary Fisher. This will be the first baby for Adele. Congratulations to the happy couple!
Are you happy for Adele and Simon's first baby together? Do you expect her to sing about babies and families in the near future?
Source: Yahoo News
Image: Snark Food