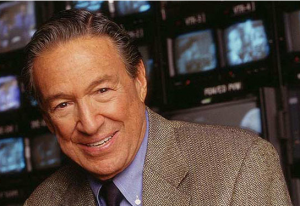 Mike Wallace, the legendary CBS News broadcaster, interviewer and "60 Minutes" icon, has died, the network said Sunday. He was 93.
Wallace, whose "probing, brazen style made his name synonymous with the tough interview — a style he practically invented for television more than half a century ago" died "peacefully" on Saturday night, surrounded by family in New Canaan, Conn., CBS said.
Wallace "took to heart the old reporter's pledge to comfort the afflicted and afflict the comfortable," Morley Safer, Wallace's longtime colleague, said. "He characterized himself as 'nosy and insistent.' So insistent, there were very few 20th century icons who didn't submit to a Mike Wallace interview. He lectured Vladimir Putin, the President of Russia, on corruption. He lectured Yassir Arafat on violence. He asked the Ayatollah Khoumeini if he were crazy. He traveled with Martin Luther King (whom Wallace called his hero). He grappled with Louis Farrakhan. And he interviewed Malcolm X shortly before his assassination."
Wallace retired in 2006. His last appearance on "60 Minutes" was in 2008, when he interviewed Roger Clemens. But he was slowed by heart surgery later that year. And in a recent interview with the Times, his son, Fox News' Chris Wallace, said his father's health had deteriorated.
"He's in a facility in Connecticut, Wallace said. "Physically, he's okay. Mentally, he's not. He still recognizes me and knows who I am, but he's uneven. The interesting thing is, he never mentions '60 Minutes'… The only thing he really talks about is family–me, my kids, my grandkids, his great-grandchildren…"
As news of Wallace's death spread, the outpouring of remembrances from his peers was immediate. CBS will dedicate a special edition of "60 Minutes" to Wallace on April 15.
Source: Yahoo News
Image: The Moderate Voice