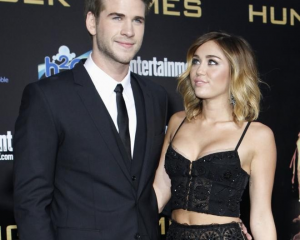 Even though punky pop-tart Miley Cyrus and her Australian actor boo Liam Hemsworth are set to be married, it seems Liam may not be as committed to smiley Miley as his diamond ring present insinuates… Cause dude was spotted getting SUPER intimate with a mysterious blonde woman at the Samsung Galaxy Note II party last week!
'More than just friendly'
A sneaky insider reveals:
"Liam was in the corner of the back tent with a blonde and they were getting very cozy. It definitely looked like they were behaving in a way that was more than just friendly. His friend/handler was trying to keep people away and allow Liam and his 'friend' some privacy, but Liam didn't seem to be that worried about it."
'Potentially unfaithful fiancé'
Ruh roh!!! Perhaps Liam was practicing his romantic acting skillz on an innocent bystander?! Or perhaps he was getting back at Miley for locking lips with her Two and a Half Men costar?!
Ugh poor Miles, she's dealing with scissor-happy stalkers and now a potentially unfaithful fiancé. Ah well, at least she's got a unicorn head to keep her company during those lonely nights!
Could there be any truth to this cheating rumor about Liam Hemsworth? Would he go behind Miley Cyrus' back to snuggle with another girl? Tell us what you think about the future of these two famous lovebirds!
Source: Perez Hilton
Image: International Digital Times