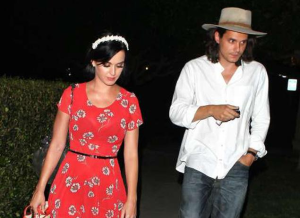 It's all over but the singing – once again – for Katy Perry and John Mayer. The couple, who had been dating for the past seven months in what was their second chance at love, have again parted ways, a source confirms to PEOPLE.
'Growing love affair'
The split comes less than a month after Perry, 28, was spotted wearing a ruby from Mayer, 35. They were first linked last summer, less than a year after Perry and Russell Brand divorced.
And while Mayer and Perry split briefly last August, they quickly reconciled and embarked on what seemed to be a growing love affair. They even spent Christmas together with her family.
'Speculating on marriage'
As recently as last month, Mayer was upbeat about the relationship, calling it "very human" and even speculating on the idea of marriage.
Do you think Kaypers and John Mayer can stay away from each other for a long time or not? Do you think they'll be back in each other's arms (again) soon? Tell us if you think they should just go ahead and get married or just dump each other permanently for their own good? Feel free to share your thoughts with us by filling up the comment box below!
Source: Tim Nudd, People
Image: NY Daily News