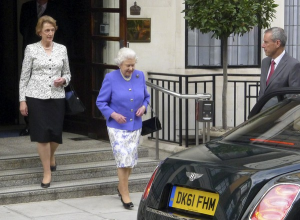 Queen Elizabeth paid a 50-minute call on her ailing husband, Prince Philip, Duke of Edinburgh, on Wednesday, at London's King Edward VII Hospital.
On Monday, Philip, who will turn 91 on Sunday, was rushed to the hospital from Windsor and diagnosed with a bladder infection.
Despite his condition – and his having missed the final two days of the Queen's Diamond Jubilee festivities – Philip was said to be in "good spirits" and responding to antibiotics, having "improved considerably" since his admittance, according to a statement from Buckingham Palace on Wednesday. He is still expected to remain hospitalized for his birthday.
The couple's younger son, Prince Andrew, the Duke of York, 52, also visited with his father, having arrived at the hospital in his Range Rover, said the newspaper. Youngest son Prince Edward, 48, visited his father on Tuesday and said he was "feeling a lot better."
Despite being already old and grey, Her Majesty and Prince Philip still look very cute together, don't you think? So, we gotta ask: Do you wish to have a long-lasting and sturdy relationship just like theirs? Tell us what you admire most about The Queen and her husband.
Source: People
Image: Royal Blog