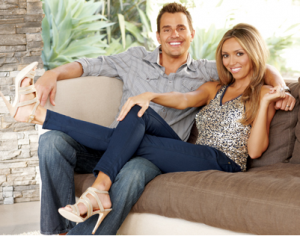 He's here! Bill and Giuliana Rancic welcomed their first child, son Edward Duke Rancic, on Wednesday, Aug. 29 in Denver, the couple announced via Twitter Thursday morning.
"The 'Duke' has landed! Edward Duke Rancic was welcomed into the world last night at 7 lbs., 4 oz.," the Apprentice winner writes. "G & I feel blessed beyond words…We did it!"
Born at 10:12 p.m. with the parents in the delivery room, the baby's cord was cut by Bill and he was first held by Giuliana, the couple tell E! News. After struggles with infertility, miscarriage and a breast cancer battle for E! news anchor and Fashion Police co-host Giuliana, 37, the couple announced that they were expecting a baby via gestational surrogate.
In June, the Rancics shared that they'd be welcoming a boy whom they planned to give a traditional name.
"Our journey has a happy ending," Bill, 41, tells PEOPLE. "We didn't give up, we didn't quit and we're going to have a good ending to this."
Are you happy that Bill and Giuliana Rancic finally had a baby boy after all they've been through? Would you go to the same great lengths just to conceive or have a baby? Share your thoughts and opinions with us via the comment box below!
Source: People
Image: Life & Style