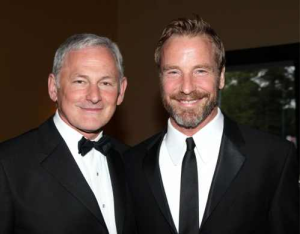 Actor Victor Garber, who played Jack Bristow on Alias and the shipbuilder Thomas Andrews in Titanic, confirmed this week what he thought people already knew. Yes, he is gay.
'Everybody knows'
"I don't really talk about it, but everybody knows," Garber, 63, told Greg Hernandez of the blog Greg in Hollywood, and was later confirmed by E!.
The actor, who has been nominated for six Emmy Awards, including three for Alias, has hardly kept it a secret. In an interview last year with a magazine in his native Canada, Garber said:
'Together almost 13 years'
"My companion Rainer Andreesen and I have been together almost 13 years in Greenwich Village. We both love New York."
Andreesen, an artist and model, accompanied Garber to this year's Golden Globe Awards.
Are you a fan of Victor Garber? And was he right in thinking that people already knew that he is gay? Have you always known about it? Feel free to share your thoughts on this newly confirmed Hollywood "secret" and Garber's handsome partner Rainer Andreesen. Broadcast your opinions to the world via the comment box below!
Source: Time Nudd, People