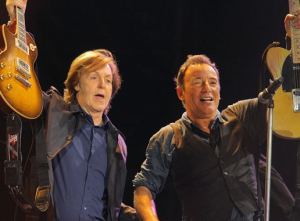 In what may be the dumbest enforcement of a curfew in rock and roll history, organizers of a Bruce Springsteen concert in London literally pulled the plug on the show during an encore featuring special guest Paul McCartney.
"I gotta tell you, I've been trying to do this for 50 years," Springsteen told the crowd of 76,000 while introducing McCartney. The pair–backed by the E Street Band and Rage Against the Machine guitarist Tom Morello–launched into the Beatles' "I Saw Her Standing There." But Springsteen  had already exceeded the three-hour time limit set by London's Westminster Council for the Hyde Park concert, according to the BBC. The sound was cut off at approximately 10:40 p.m. local time as the Springsteen and McCartney performed "Twist and Shout."
During the band's second song with McCartney, "a drably dressed man with sensible hair could be seen waving frantically at the back of the stage, indicating the rock legends' time was drawing to a close," CNN reported. "The sound suddenly dampened, and went quiet. At first, the Boss didn't seem to notice. He attempted to address the crowd, apparently unaware that they couldn't hear him. But as it became clear that there was no amplification, he and lead guitarist Stevie Van Zandt played what looked to be a brief a cappella goodnight for the benefit of the front rows, shrugged, and left the stage."
After the show, Van Zandt slammed the decision: "Seriously, when did England become a police state?" Van Zandt wrote on Twitter. "Is there just too much fun in the world? We would have been off by 11 if we'd done one more. On a Saturday night! Who were we disturbing?" Concertgoers agreed, to put it mildly.
On Sunday, the city council and concert organizers released separate statements, scrambling to deflect criticism: "Concert organizers, not the council, ended last night's concert in Hyde Park to comply with their license, which [allowed] them to run the concert until 10:30 p.m.," the city council said in a statement on Sunday.
Should the promoters have allowed the Springsteen-McCartney pair to finish their number? Or, were they right to adhere strictly to London's noise curfew? Share your thoughts in the comment box below!
Source: Yahoo News
Image: The Telegraph