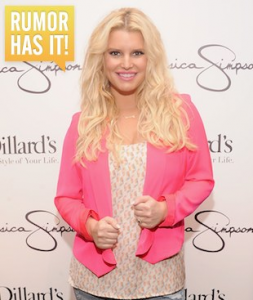 Christmas is still nearly four weeks away, but Jessica Simpson got her biggest — and totally unexpected! — present early: Another baby on the way! Seven months after giving birth to daughter Maxwell Drew Johnson, the star is once again expecting, the new issue of Us Weekly exclusively confirms.
'Wasn't planned'
"It definitely wasn't planned. But yes, Jessica is pregnant again," a source reveals to Us. The surprise baby-to-be is the second for the singer and Fashion Star mentor, 32, and fiance Eric Johnson. (A rep for Simpson had no comment.)
Engaged for the past two years, Simpson and former NFL pro Johnson, 33, welcomed Maxwell – a whopping 9 pound, 13 ounce bundle of joy! — on May 1 of this year. And while Simpson felt energized about her admirable 70-pound slimdown post-baby, her greatest inspiration is being a mom.
'Overjoyed'
"Motherhood is a dream," she told Katie Couric back in September. "It really is absolutely amazing."

Wishing a Happy Thanksgiving to her 5.7 million Twitter followers Nov. 22, she gushed: "I am so grateful for my new lil family!"

Notes the source of pregnancy number two: "She really is overjoyed!"
What moniker should Jessica Simpson give her second baby? Would that bundle of joy be a girl or a boy? Tell us what you think of this recent joyful baby news. Share your thoughts and opinions with us via the comment box below!
Source: Yahoo News
Image: Zap 2 It