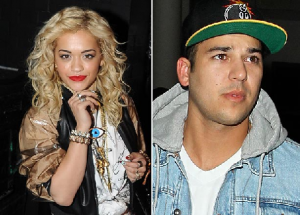 In a now deleted series of messages, Rob Kardashian took to Twitter recently and posted some thoughts on women, cheating, and self-respect… All of which we are 99% sure was aimed at his sorta ex-girlfriend Rita Ora — although Rita claims they never actually dated.
'Accusation'
Well, in a new flurry of defensive tweets which again, have been deleted, Rob writes:
"Sad that the media created negativity for a young artist new to the game that is working so hard to make it. Never mentioned any names. I speak truth. I'm a very Real dude and everything I say I mean…But never called anyone specific a whore and said any names. You all did."
Ah yes the truth of how sleeping with 20 men is disrespecting one's body? Isn't that kind of an opinion mixed with an accusation?
'Inspiration stuff'
Anyway, even though Rob isn't telling WHO those inneresting tweets were about, his little sis Kylie Jenner divulged on Monday:
"I actually talked to him today. I was like, 'What's wrong, Rob? Are you OK?' He's like, 'No, I just want to put out some inspiration quotes.' So…he's just trying to put…some inspiration stuff out there."
Ahhh ok! Cool, we're glad all those tweets, which are extremely sexist considering, were simply meant to inspire girls everywhere. Inspire them to do what, we're not exactly sure.
We know it's a little bit of a rehash, but still, we gotta ask the girls out there… were you inspired with Rob Kardashian's Twitter rant about cheating? Ha! Share your thoughts with us via the comment box below!
Source: Perez Hilton
Image: Rita Ora Music