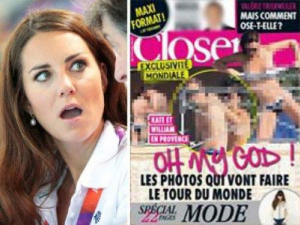 A celebration of love and beauty? Or an illegal invasion of privacy? The battle lines are being drawn in France as a magazine editor defends the decision to publish topless photos of the Duchess of Cambridge.
"These photos are not in the least shocking," Laurence Pieau of Closer told the Agence France-Presse on Friday. "They show a young woman sunbathing topless, like the millions of women you see on beaches." Calling the reaction to the photos "disproportionate," Pieau adds, "It is a young couple that has just been married. They are in love. They are beautiful. She is the princess of the 21st century."
But the royals, who are in the middle of their nine-day tour of Asia, are taking legal action in France. "St James's Palace confirms that legal proceedings for breach of privacy have been commenced today in France by The Duke and Duchess of Cambridge against the Publishers of Closer Magazine France," a St James's Palace spokesperson said in a statement Friday.
While Pieau says the pictures were snapped from a nearby road from which Kate was visible sunbathing, and also notes they are "full of joy" and are "not degrading," on Friday afternoon Will and Kate did not look happy as they continued their planned visit in Kuala Lumpur, according to observers.
Earlier Friday morning, the palace initially reacted with anger over the publication of the photos.
"The incident is reminiscent of the worst excesses of the press and paparazzi during the life of Diana, Princess of Wales, and all the more upsetting to The Duke and Duchess for being so," read a statement released Friday from a St. James's Palace spokesman. "Their Royal Highnesses had every expectation of privacy in the remote house. It is unthinkable that anyone should take such photographs, let alone publish them."
What do you think — did the paps go too far when they shot Duchess Kate's intimate photos with Prince William? Feel free to comment on this issue!
Source: People
Image: 88 DB Reviews