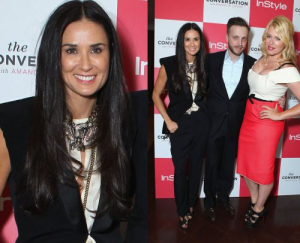 Demi Moore made her first official appearance since getting out of treatment, showing up Tuesday at a Beverly Hills house party to support her close friend, British TV host Amanda De Cadenet.
Hosted by InStyle Managing Editor Ariel Foxman, the intimate gathering celebrated the April 26 launch of De Cadenet's Lifetime interview show, The Conversation. Moore is both executive producer of the show and one of its inspirations. Before stepping out Tuesday night, Moore had stayed almost entirely out of sight since leaving treatment. Since returning from an island vacation with friends in March, she has in fact been lying low at her L.A. home, focusing on moving forward with her life and career, says a source.
Moore, 49, also returned to Twitter over the weekend after a three-month absence, posting a self-portrait and still using the @mrskutcher handle. However, Tuesday she did send a message to fans saying, "time for a change, twitter name change … any suggestions?"
In November, she announced the end of her six-year marriage to Ashton Kutcher, 34. Two months later, Moore was hospitalized with convulsions and sought unspecified treatment.
Do you have any great suggestions for Demi Moore's new Twitter name? Share your ideas with us below!
Source: People
Image: The Berry