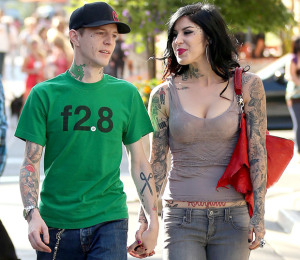 Another engagement comes to an end for Kat Von D. The tattoo artist turned reality star, 31, revealed that she and fiancé Deadmau5 (real name Joel Zimmerman) have split – but can't seem to agree on why.
'Most hurtful thing'
"Cheating on your loved one is the most hurtful thing one could do. I hate to have to admit, that this relationship is indeed over," Von D wrote on Twitter Wednesday morning.



'Mutually ended'
On Thursday, Zimmerman, 32, released his side of the story with a lengthy statement posted on his Facebook page that denied any wrongdoing.
"Kat and I split in November and I moved back home to Toronto. During this time, while we were broken up, I did have relations with another woman. Following that, Kat and I reconciled and I acknowledged being intimate with another person while we were estranged," he wrote.

"We did move past those issues and I proposed to Kat in mid-December. At the end of June, it was clear that the relationship was not working and we mutually ended the engagement."
Von D was previously engaged to Sandra Bullock's ex-husband, Jesse James.
Do you think Deadmau5 and Kat Von D were really not meant to be together? Or should we expect to see them together again after a couple of weeks or so? Feel free to share your thoughts and opinions with us via the comment box below!
Source: Maggie Coughlan | People
Image: Hollywood